Your book title, subtitle and series name should all include keywords for which you want to rank in Amazon book searches.  Competition for Amazon keywords is fierce.  You want to find keywords that generate traffic but for which there is little competition.  The same is the case for selecting a category.  Select the right category and you become a page one bestseller.  Finally, there are Amazon Marketing Services (AMS) keywords to consider.
This post highlights how to do it all using the Publisher Rocket Amazon book keyword research tool.
https://brianjjaxn--rocket.thrivecart.com/publisher-rocket
Note that the above link is an affiliate link.  Should you purchase Publisher Rocket using this link, I'll receive 50% of the sale at no added expense to you.  Thank you for your continued support.
Keyword Search
Enter a short root keyword into Publisher Rocket's Keyword Search tool to get the tool to recommend long tail alternatives for which there's traffic but little competition.  Click the spyglass to the right of the keyword to display its statistics.  Keywords are color coded from green to red to show desirability.  Keep entering root keywords and gathering long tail alternatives until you've gathered at least seven long tail keywords.
In the above example, "paranormal romance novella" looks like an excellent keyword to use as the book subtitle and one of its seven keywords.
Competition Analyzer
Next, use the Competition Analyzer to scope out the competition for your selected keyword.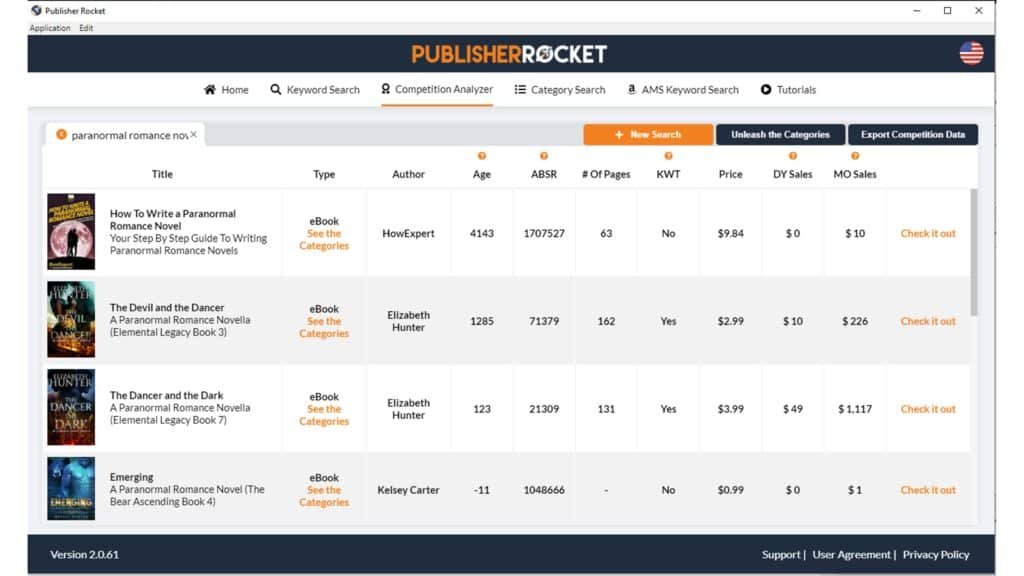 Doesn't look too horrible and I like the $2.99 price point.
Category Search
The last step in researching your book for publication is to select the two categories in which Amazon will file your book.  Use the Category Search tool to research book categories in which you can become a page one bestseller.
AMS Keyword Search
Once you're ready to advertise on Amazon Marketing Services (AMS), which is sooner than you think, you'll want to have Publisher Rocket available to generate masses of keywords.
Tutorials
The main screen of Publisher Rocket presents four tabs associated with the four operations just addressed.  The fifth tab displays online tutorials explaining how to use all the tools provided by the software package.
Is Publisher Rocket Worth It?
I've self-published and now maintain over 100 Amazon Kindle e-books.  For me, it's worth the money to own Publisher Rocket.  However, if you only have a book or two published on Amazon, you probably won't get your money's worth.  Instead, perform the same process manually (keep your eye out for a further post on the topic).
Consider giving the tool a test drive:
https://brianjjaxn--rocket.thrivecart.com/publisher-rocket
I'll see you in the classroom,
—Brian